The Cinema application for the JNIOR enhances the JNIOR capabilities. While the JNIOR can be used in its most basic form, the Cinema application provides the ability to execute macros, sequence of actions.
The Cinema application does not ship preinstalled. You MUST obtain the application from our website. There is a download on the website that will be opened in the JNIOR Support Tool and published to the JNIOR. This is called an Update Project.
Here are links to latest versions of the JNIOR Support Tool and the Cinema application.
NOTE: This link for the Cinema Update Project is Cinema.jar, if you are using a Series 3 JNIOR you need Cinema.jnior instead. This can be retrieved from the legacy section of our downloads on our site.
After installing both the JNIOR Support Tool and the Cinema Update Project, you'll want to open the Support Tool and click on the Update Tab. Once there, the first thing you'll want to do is select the Open Project button, and select the Cinema Update Project you just downloaded. When you open the Cinema Update Project in the Support Tool you will see the following.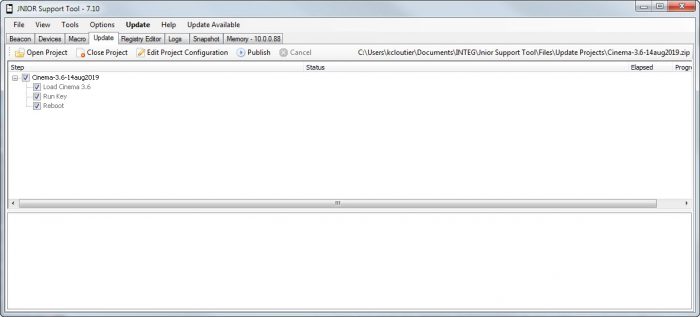 Click Publish and select the JNIOR you want to update. Once the update is complete the JNIOR will have rebooted and the application will be ready to configure. Configuration is largely dependent on what you are trying to do.
Within the Support Tool you can configure devices and macros. Devices are outbound connections from the Cinema application. For example, a projector, sound processor, or lighting system. Those devices can be serial or Ethernet. We have not implemented very many devices but the ones that are implemented satisfy a very large majority of the installations. If you need a device that is not implemented, you can use the "Raw Serial" or "Raw Ethernet" device. This will allow you to send commands that you define to those devices. Even if you pick a device that we have implemented, you may need to add a new command. You can use the Send action and define the bytes that need to be sent.