Welcome to INTEG
INTEG is the home of the JNIOR. The JNIOR is an easy-to-use, flexible automation controller with digital and analog I/O, Ethernet and serial connectivity, and add-on software applications for monitoring and controlling equipment or a process for a variety of applications.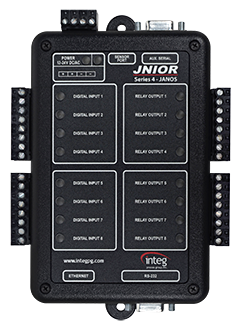 Company
INTEG Process Group, inc. has been around since 1999. We have been producing the JNIOR in its current form since 2005.
Location
INTEG is located in Gibsonia Pennsylvania about a mile off of the PA Turnpike exit 39 Route 8. We are about an hour North of Pittsburgh.
Customer Focused
Here at INTEG the CUSTOMER is our priority. We pride ourselves in making the customer happy by supplying high quality, robust automation. We also work diligently to ensure that our technical support is very responsive.
NO AI
If you contact the office during operating hours you will reach a real person, not an AI phone menu or web site chat bot, just real people who are passionate about the JNIOR and how it can help you!
Hardware
The INTEG™ JNIOR automation controller is a PLC/PAC alternative that provides Ethernet connectivity with built-in digital I/O, serial ports and analog expansion modules. The JNIOR is produced in-house in Gibsonia, PA. We take pride in producing a reliable product.
Optically Isolated Digital Inputs
Optically Isolated Inputs offer the internal system protection from high voltage or wiring mistakes. The Inputs can also double as counters and count pulses reliably up to 1.8 KHz. The Input counter value is available via the web page and other communication protocols.
Dry Contact Relays
Our dry contact relays offer protection from wiring issues but do require that voltage is applied to the circuit. There are 2 or 4 internal FORM C relays depending on the model. The relay can be configured as normally open or normally closed based on an internal jumper.
Expansion Modules
There are Expansion Modules for Relays, Analog Signals, Temperature and Humidity. There is also a LED strip light Dimmer module. The Expansion Modules can be daisy chained together to add more than one modules to a JNIOR. The Modules are connected using a 6-pin modular cable with RJ-12 connectors.
Control Panel
There is a Control Panel that provides 12 status LEDs and has 6 dual position rocker switches providing 12 overall buttons. The Control Panel connects to the JNIOR as an Expansion Module. The Control Panel can be monitored and controlled by the Tasker and Cinema applications.
Power Supply
The JNIOR requires 12-24 volts DC and at least 1 Amp is recommended. The JNIOR power supply terminal provides 2 extra connections where you can jump off of to provide voltage to otherwise dry circuits.
Serial Ports
The JNIOR has 2 serial ports. There is a COM port that is used for diagnostics and an AUX port. Both ports can be taken over by Java applications. The AUX port on the 410 is RS-485 capable.
Operating System
The JNIOR Series 4 OS, JANOS, is a multi-tasking operating system. This dynamic OS includes a full feature Java Virtual Machine (JVM) developed by INTEG. The JVM runs standard Java programs with no special classes or compilation required, allowing easy development of custom code for execution on the JNIOR Ethernet I/O Controller.
JANOS v2.4.1
JANOS version 2.4.1 was released on September 1st, 2023.
Memory Management
Robust memory management
File System
JANOS implements a file system that is shared between different memory types
Inter-process Communications
A Message Pump provides inter-process communications
Networking
JANOS works with a single hard-wired Ethernet port. A full TCP/IP stack was implemented
Security
TLS version 1.2 and earlier have been implemented.
User Interface
Users can interact via a web browser as a User Interface
Built-in Web Server
JANOS implemented a built-in Web Server provides modern web interfaces to the JNIOR as well as custom applications. The Web Server uses Web-Socket communications to offer real-time bi-directional TCP communications. Internal JNIOR control is provided as well as the ability to communicate from the web application to Java applications.
Java Applications
The JNIOR can run Java applications written by INTEG or by you!
Applications
This compact Ethernet I/O controller's core operating system and bundled software applications boast numerous built-in features that make the JNIOR suitable for a variety of applications right out of the box, with no programming required. When the built-in programs aren't enough, we have some add-on applications. Still not right for you? Go with custom software.
Bundled Applications
INTEG offers many applications that are installed when the JNIOR is manufactured.

Slaving Service, MODBUS Server, Serial Control, Serial to Ethernet, and SNMP come preinstalled. You can activate these applications, reboot, configure and go!
Add-On Applications
INTEG offers other applications that are not loaded on the JNIOR by default but can be added by the customer.

Tasker, Cinema.JAR, DMX, Analog Presets, MQTT, and Utility Monitoring are all free add-on applications from INTEG.
Releases
Applications are always being updated. It might be because of new features or bug fixes. JNIOR software is easily loaded on the JNIOR by using an Update Project that opens in the JNIOR Support Tool. The file is a .zip file but should not be extracted.
Custom Applications
If the JNIOR doesn't have the functionality that you are looking for then a Java application can be written to add additional business logic. INTEG can work with you to get your custom application written. Either contract INTEG to write the application on specification or you can write it using your favorite IDE.
JANOS Library
Since INTEG has only implemented a subset of the JDK. Not all classes and methods are available. You can explore the Javadoc to explore the classes that are available. This library also provides access to internal JNIOR features.
JNIOR Support Tool
The JNIOR Support Tool helps you manage your JNIORs. The JNIOR Support Tool is a Windows based PC application that allows the user to enter the JNIOR IP address via our Beacon technology, configure a variety of JNIOR features via our Registry editor, easily load additional software and updates to one or many JNIORs, review logs and back-up or duplicate your JNIOR configuration.
Industries
While the JNIOR plays a large role in the Digital Cinema industry, it is not the only industry that the JNIOR serves. The JNIOR is also used in Environmental Monitoring, Data Collection, Transportation, Remote Monitor, Oil and Gas, Utility Monitoring, You name it.
Broad Reach
The JNIOR is utilized in many industries from Environmental Monitoring, Data Collection, Transportation, Remote Monitoring, Oil and Gas, Utility Monitoring
Digital Cinema
Digital Cinema is our largest industry where we provide the JNIOR globally to theaters. A customized Cinema application is available to help you orchestrate the events during your playlist from pre-show to feature to credits, cleaning, fire alarms and much more.
Proprietary Applications
Many Proprietary Applications have been written for customers from many different industries based on their specifications. Some customers have taken control of the source after the initial release while INTEG continues to maintain and support other applications.
Help
The Support section of our website provides you with all the tools, documentation, software updates and videos you will need to configure and utilize the JNIOR. If you find that you still have questions, please do not hesitate to contact us.
Knowledge-Base
The Knowledge-Base is an ever expanding section of useful information. Topics are written about regularly so check it out and maybe you will find what you are looking for or maybe you will stumble upon a new feature you never knew existed. If you have a question and would like us to write about it please feel free to ask!
Support
We are here to help! Contact us Monday – Friday from 8am – 4pm EST via the phone, 724-933-9350, or our online chat. We are available by email anytime, support@integpg.com. If you are not in immediate need of support then you can use our Contact Form. It is very helpful to get a Snapshot of the JNIOR when contacting INTEG. We use Team Viewer when we connect remotely for support.
FAQs
The FAQ section provides quick answers to a lot of frequently asked questions. A question you have may have been asked before and have been added to this page. So check it out and see.
Google Translate
We will use Google Translate to support our non-English speaking customers. This has been useful over the years and we will continue to employ this very helpful tool.