INTEG accepts phone calls for support during our office hours, give us a call at 724-933-9350.
Instead of a phone call, we can also help you through our Purechat messenger to talk with you in real time. Just click the chat box at the bottom right corner of our website, and someone will join chat to help you out!
We can also connect with you via the Team Viewer application. You can download this free Team Viewer application and it will allow INTEG to connect to your PC. Below is a picture of what the Team Viewer application looks like after you download it and run it. Click here to DOWNLOAD the Team Viewer app.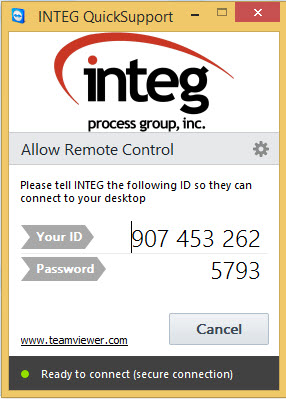 We use Google Translate to help our international, non-English speaking customers.
When you first purchase a JNIOR, you should download our JNIOR Support Tool.  It helps you to easily configure your JNIOR as well as provide you with a quick way to update your JNIOR software and load add on software applications. Please go here to download the JNIOR Support Tool.