While JNIOR 412DMX units may be unavailable, JNIOR 410s can be made to work as a substitute. Note that this does NOT work for JNIOR 412s and 414s, as 410s RS-485 compatibility is the reason why it can be used as a 412DMX substitute.
Cabling
When trying to connect to a 410 with DMX, the cabling will need to be corrected as you need to go from an AUX port to a male/female 5-pin XLR connector. By splicing into an existing DMX cable, you can attach a DB9 adapter with screw terminals to the end of the cable. It should look something like the picture below.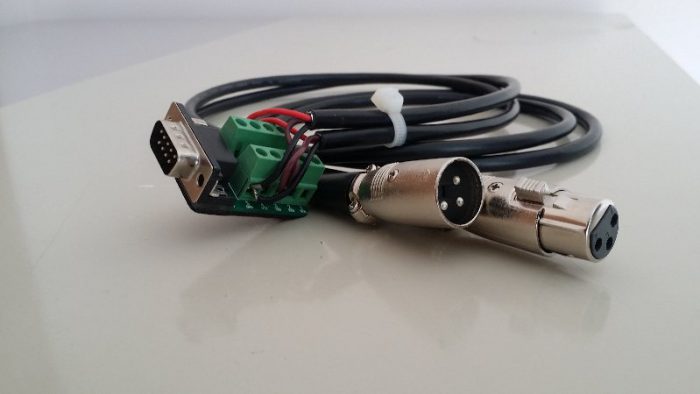 Here is the pin numbering for splicing the adapter on. Note the wire colors vary.
        Signal           XLR      DB-9 Male
--------------------  ---------  -----------
Signal Ground (GND)       1          5
Data (D-)                 2          3
Data (D+)                 3          7
Not Used (NC)            4,5     1,2,4,6,8,9
This cable allows the JNIOR to be a DMX FIXTURE. THE RESULTING DMX CONNECTION IS NOT ISOLATED. We recommend using an isolated power supply for the JNIOR and not sharing that voltage with other circuits. Take great care in making ground connections. Note that the JNIOR relay outputs are naturally isolated.
Aux Port Application
Below is an application you'll need to update and install on the JNIOR. This is required for the JNIOR to interpret DMX communication on the JNIOR.
Serial Settings
The serial settings of the JNIOR need to be configured so the AUX port output doesn't disrupt the DMX communications. Below are the settings you need to set for the AUX Port. This is located on the JNIOR\'s Webpage, in the Serial I/O section under the Configuration Tab.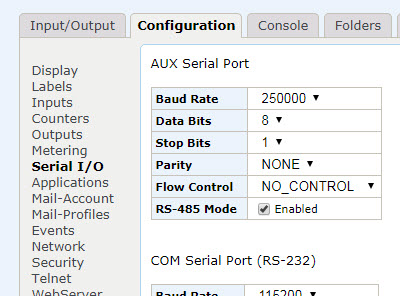 Once the cabling has been created, the DMX Port application is on the JNIOR, and the Serial Settings have been set, DMX communication should be possible on the JNIOR 410.
If you have any questions about this, contact our support to get help with this setup using pure chat or our email: support@integpg.com.