Finding the JNIOR IP Address
Sometimes you need to find out what the IP Address of the JNIOR is that is sitting on your network.  Sometimes someone else set it up and are no longer working with you or maybe you programmed it but years have passed and you haven't needed to access the JNIOR because it is performing its job and no attention has been needed.
There are a couple of different ways to find out the IP Address.
By far the easiest way to find the JNIOR IP Address is the use the JNIOR Support Tool.  The JNIOR Support Tool only works on Windows systems.  http://jnior.com/category/news/support-tool/ will have links to the latest, as well as previous, versions of the JNIOR Support Tool.  Once loaded and started you will be presented with the Beacon tab.  The Beacon tab will show all the JNIORs that are present on your LOCAL network that have reported.  When the Support Tool launches a broadcast is sent out asking for all the JNIORs to report their information.  Some network configurations can either help or hinder this operation.  In most cases it works as intended.  Here is a picture of the Beacon screen.  If you have more than one JNIOR shown you can use the Serial Number of the JNIOR to identify which row corresponds to your unit or you can use the identify feature to pulsate the amber LED next to the power indicator.  To perform that function you can right click on a row and select either Query | Identify or Configure | Identify from the menu.

The other way to determine the IP Address of a unit is to directly connect a serial cable to the RS-232 port.  Computers do not come with serial ports anymore so a USB to Serial adapter will be needed.  You can find them at Amazon.  Once the cable is connected, select your favorite terminal application or use the Command Line application included with the Support Tool.  The serial settings must be 115200, 8, 1, none for the baud rate, data bits, stop bits and parity respectively.  Now that the connection is set up you can press enter and the login prompt will be presented.  The default credentials are username: jnior and password : jnior.  You can now enter ipconfig to see the current network setup.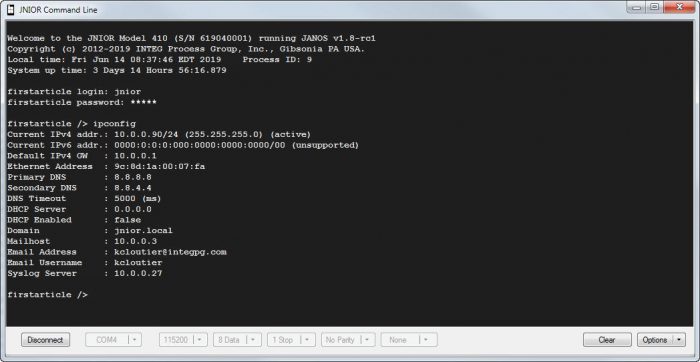 Lastly, for those who know Morse code, you can unplug the network cable and the status LED will flash Morse code representing the value of the last octet.  You must know the first 3 octets of your network.
    0 --- --- --- --- ---
    1 - --- --- --- ---
    2 - - --- --- ---
    3 - - - --- ---
    4 - - - - ---
    5 - - - - -
    6 --- - - - -
    7 --- --- - - -
    8 --- --- --- - -
    9 --- --- --- --- -
By
Kevin Cloutier
| Updated On November 3, 2023 1:15 pm | No Comments | Categories:
JNIOR
| Tags:
networking
,
troubleshooting