Disabling the RS-232/COM Serial Ports Boot Dialog
When doing Serial Communication on the JNIOR, there are two serial ports that you can can choose from. The AUX port and the RS-232/COM port. We always recommend using the AUX port, because while you can use the RS-232/COM port, its primarily used for diagnostic and debugging use. The RS-232/COM port has a boot dialog enabled by default for this, and in order to send serial data out the RS-232/COM port without issues, it needs to be disabled. If not disabled, the boot dialog will get sent out along with your data. Below is how to disable the boot dialog for the RS-232/COM Serial port.
NOTE: This is for Series 4 JNIORs, Series 3 JNIORs cannot disable the boot dialog. As mentioned previously, the RS-232/COM port can still receive data while the boot dialog is on, but cannot send data out without encountering issues.
In the JNIOR Web Page, navigate to the Serial I/O section in the Configuration tab. Under the RS-232/COM Serial port settings, you'll uncheck the Enabled option for Boot Dialog. After this change, you'll need to reboot for it to take effect.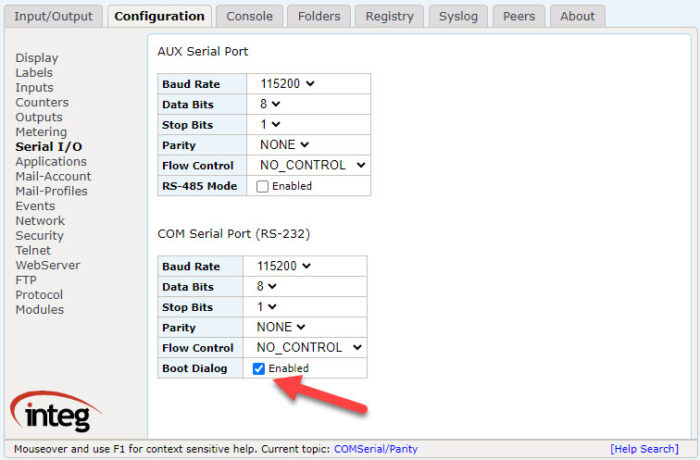 By
Anthony Pavia
| Updated On November 7, 2023 3:57 pm | No Comments | Categories:
JNIOR