Create and Test JNIOR Protocol Commands In The JNIOR Support Tool
When trying to communicate with the JNIOR, one of the main ways to do so is using the JNIOR Protocol. With that said, you then may want to try sending messages to the JNIOR protocol directory from an external device. Inside the JNIOR Support Tool is the Hex String Sender device, which shows you how to create JNIOR Protocol commands and test them.
On the top left of the JNIOR Support Tool under Tools->Advanced is where you can access the Hex String Sender Tool. This tool opens in a separate, smaller dialog box. When you select from one of the pre-defined commands available, and enter some additional information for the options of the command, the Hex String Sender generates how that command would need to be sent to the JNIOR Protocol in Hex to work. You can then use the generated Hex command to send from your other device to the JNIOR Protocol of a JNIOR to execute that command.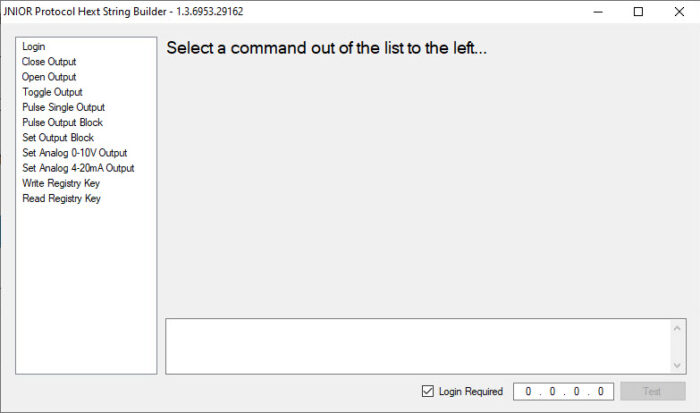 At the bottom, you may enter the IP of a JNIOR to test if the commands being generated work with it. Once a command is selected and an IP is entered, clicking the test button will execute that command on the specified JNIOR. Using this, you should now be able to create and test JNIOR Protocol commands for JNIORs.
By
Anthony Pavia
| Updated On November 1, 2023 9:17 am | No Comments | Categories:
Support Tool
| Tags:
tools