Support Tool 7.15 Minor Update September 27, 2023
| Name | Version | Release Date | Size | MD5 |
| --- | --- | --- | --- | --- |
| JNIOR Support Tool | v7.15 | Nov 20 2023 | 10.4 MB | 7f91fafc366fae2c7a38a670d584d2bd |
[!] Minor update to the JNIOR Support Tool to restore Series 3 functionality. There was a bug that prevented a user from being able to set the Hostname, Configure the IP Address, and Reboot a series 3
JNIOR Support Tool 7.15 Release September 8, 2023
[!] Rolls back the .NET requirement to .NET version 4.0. 7.14 required an upgraded version of .NET, version 4.8. Some people reported being unable to install .NET 4.8 on older computers.

The initial upgrade to .NET 4.8 was due requirement for TLS 1.2. It turns out that .NET 4.0 has the ability to use TLS 1.2 but it needs to be enabled a special way.
[!] Fixed an issue preventing the Support Tool from closing completely. Instances would continue to run in the background.
JNIOR Support Tool 7.14 Release May 17, 2023
[+] Can now select multiple JNIORs to Identify or Reboot at once.
[+] Added the ability for the Support Tool to check our website for the latest Series 4 All In One. This will help you stay up to date.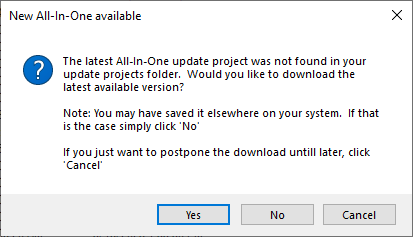 + Added the ability to submit to INTEG without having to go to our website and select the snapshot. Form will be available in the Support Tool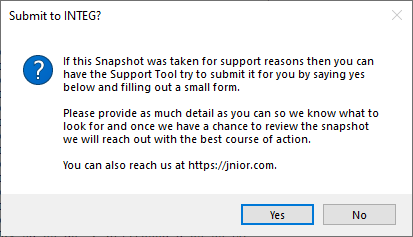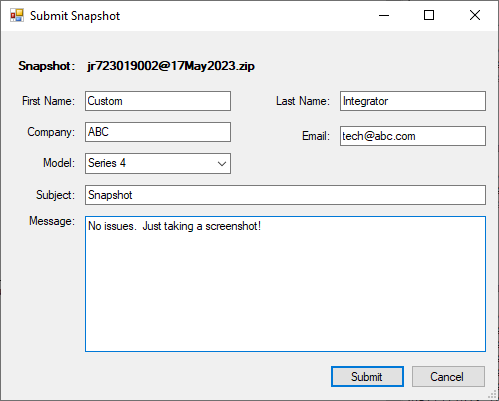 ! Minor Bug Fixes
JNIOR Support Tool 7.10 July 15, 2020
! Corrected an issue where opening an update project would encounter a non-empty temp folder.
+ Added the ability to open multiple Device files
+ Added the ability to open multiple Macro files
+ Added the ability to open multiple Update Projects
! addresses an issue where the Update Notification was always being shown at startup, even when the most recent version was on the JNIOR.
JNIOR Support Tool 7.9 May 16, 2019
The JNIOR Support Tool version 7.9 addresses an issue with new installs.  The C:\INTEG\JNIOR Support Tool directory was not getting created upon install.  This would prevent the Support Tool from opening.
Also in this update is a selection for the new Barco Series 4 projector.

By
Kevin Cloutier
| On September 27, 2023 12:49 pm | No Comments | Categorized in:
Releases
,
Support Tool