The JNIOR functions as both basic I/O for integration with another application or system, and as a stand-alone Ethernet I/O automation controller capable of running its own software. INTEG provides a variety of free standard software modules to handle a variety of tasks. Custom software can be developed by the user or INTEG.
Below is an introduction video to the JNIOR, but be sure to view all of our videos in our Support section including our JNIOR Technology videos developed by our Chief Technology Officer – Bruce Cloutier. Bruce shares his expertise on the JNIOR technology and describes a variety of features and functions.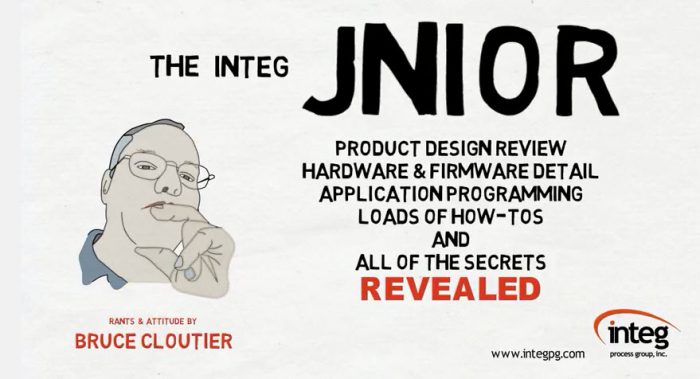 The JNIOR family of programmable automation controllers with "Advanced Capabilities" brings cost-effective and seamless connectivity and control, with web and IT friendly features, to a small amount of process signals for stand-alone applications as part of the Internet of Things on the network edge and for integration over the Ethernet network with a variety of asset management applications.
Each unit comes with a core compliment of digital I/O, including digital inputs and relay outputs. The JNIOR programmable automation controller also contains two serial ports that allow for monitoring and control of the I/O via 'serial' (ASCII) commands and for integration of serial devices with the JNIOR applications.
As your needs grow, the JNIOR Ethernet I/O controller has an expansion port that allows you to add more I/O – including more relay outputs (low voltage and high voltage), analog signals (4-20 mA, 10 VDC, RTD) and digital temperature sensors. The JNIOR Control Panel gives you more options for interacting with the unit, such as push buttons and status LEDs, to trigger user configured actions.
Contact INTEG Process Group for assistance or to make your purchase. Go here to view the JNIOR documentation or download software.