Cinema.jar 4.5 December 21, 2020
4.0, 4 oct 2019
[+] added code to detect barco series 4 device and launch the barco pulse rpc application.
4.1, 03 dec 2019
[!] trim unwanted spaces.
4.2, 04 mar 2020
[!] fixed cp+8=1000 signed issue.
4.3, 29 apr 2020
[!] changing the logging to use .bak files.  the addition of the logarchiver application will compress the .bak files into zip archives.
[!] forcing cinema_ prefix on all log files"),
 4.4, 17 nov 2020
[!] Modified the macro web handler to get the list of loaded macros"),
            
4.5, 10 dec 2020
[!] Fixed issue working with outputs > 20.
[+] rolled the barco pulse api into cinema.jar.
Go to the Cinema.jar Application page for more information. The Cinema Knowledge-base has helpful information on how to use the features in Cinema.jar.
Cinema.jar 3.6 August 14, 2019
+ Adding web handlers for getDevice without a device for internal io getAll.
Cinema.jar 3.5 June 2, 2019
+ Added HTTP POST method to Macro Actions.
+ Added the ability the use HTTPS for GETs and POSTs
Cinema.jar 3.4.1 May 29, 2019
Cinema.jar - Update Project v3.4.1 [ May 28 2019, 320.47 KB, MD5: 74f51ea7ccb40962eb2118bf16457c50 ]
! Fixed a bug where the watchdog was no longer working. If the Cinema application crashed it would not be restarted.
Cinema.jar 3.4.0 May 16, 2019
Cinema.jar - Update Project v3.4 [ May 16 2019, 320.36 KB, MD5: 63b627ede9c8a79710ddb3d7fd3ca852 ]
+ Allow you to query the temperature sensor via a HTTP Request. A JSON representation of the device will be returned.
As of now the only available devices are Type28 and Type7E...
Type28 is the temperature probe and Type7E is the environmental sensor.


To enable this you will need to set the AppData/Cinema/WebServer/Port registry key. The JNIOR will need to be rebooted after this key has been changed. In this example I chose 8081. Port 80 or 443 is normally the default web server port. This web server port is an additional web server that cinema is hosting to handle these types of requests.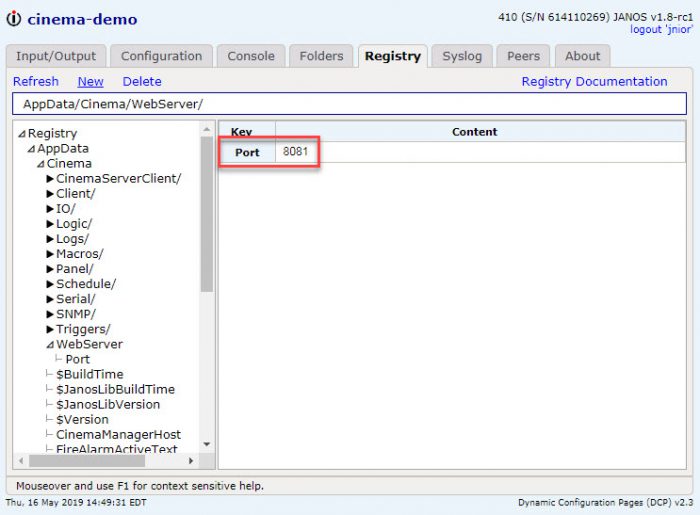 By
Anthony Pavia
| On December 21, 2020 12:43 pm | No Comments | Categorized in:
Cinema
,
News
,
Releases