Upgrading Cinema from a Series 3 to a Series 4
There are many reasons to upgrade a series 3 JNIOR to a series 4. While we believe the experience and reliability are much better with the newer hardware and software we understand that in most cases the "if it isn't broke, don't fix it" rule applies.
When you are ready, use the following steps to help the transition go smoothly.
Can I just perform a backup from the series 3 and restore onto the series 4?
You can perform a backup and restore. BUT, this will copy over the cinema.jnior application. This file will not run on the series 4. There is a specific cinema file, cinema.JAR, that will run on the series 4.
If the cinema.jnior file gets copied over there will only be one small issue. A restore will set that file to run on boot. Every time the JNIOR boots it will throw an error regarding the cinema.jnior file being there and being the incorrect format.
The procedure
1. Update the Series 4 Operating System
Make sure the new series 4 JNIOR's Operating System and Cinema application are up to date. You can find those applications on the All Downloads page.

The Cinema update will ensure that the Cinema application is present that will run on the Series 4. The version of the application that is loaded on the Series 3 will NOT run on the Series 4.
2. Take a Snapshot of the series 3 JNIOR to wish to replace
3. Extract the Snapshot
Open the Snapshot zip file and extract the macro file, devices file and flash/jnior.ini file.
4. Upload the macro and devices files to the destination series 4 JNIOR
5. Upload the configuration
The configuration is stored in the flash/jnior.ini file. Before you upload it we will need to remove two sections from the file. We will remove the [ipConfig] section so that the IP Address remains and the [run] section so that cinema.jnior does not try to start on boot.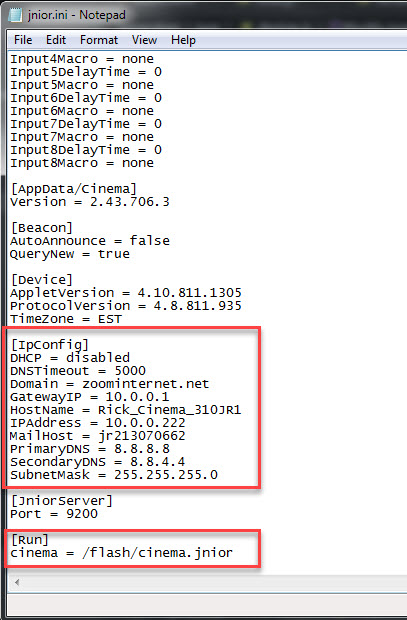 6. Enable MODBUS Server (If you are using a GDC Cinema Server)
The MODBUS server ran by default in the series 3 operating system. It is a separate application on the Series 4 that must be enabled to provide MODBUS connectivity.
You can enable MODBUS via the DCP. http://JNIOR_IP_ADDRESS in your browser.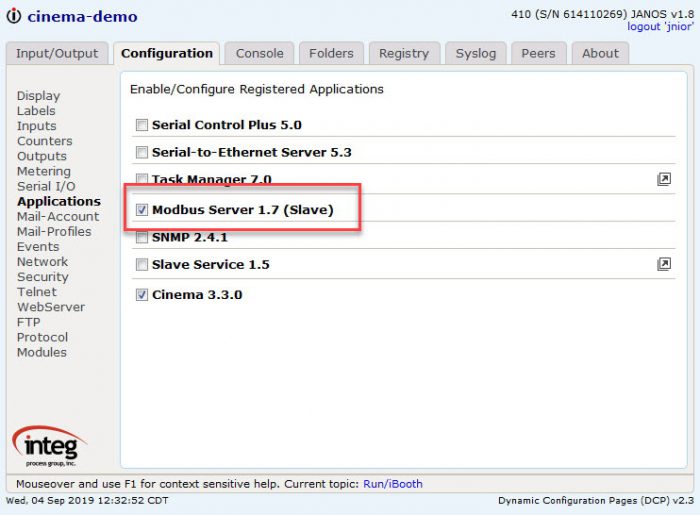 6. Reboot the JNIOR again.
You new Series 4 should be running the Cinema application with the configuration and settings from your previous series 3 JNIOR.
By
Kevin Cloutier
| On September 4, 2019 12:00 pm | No Comments | Categorized in:
News
,
Series 3
,
Series 4
,
Support Tool
,
Uncategorized